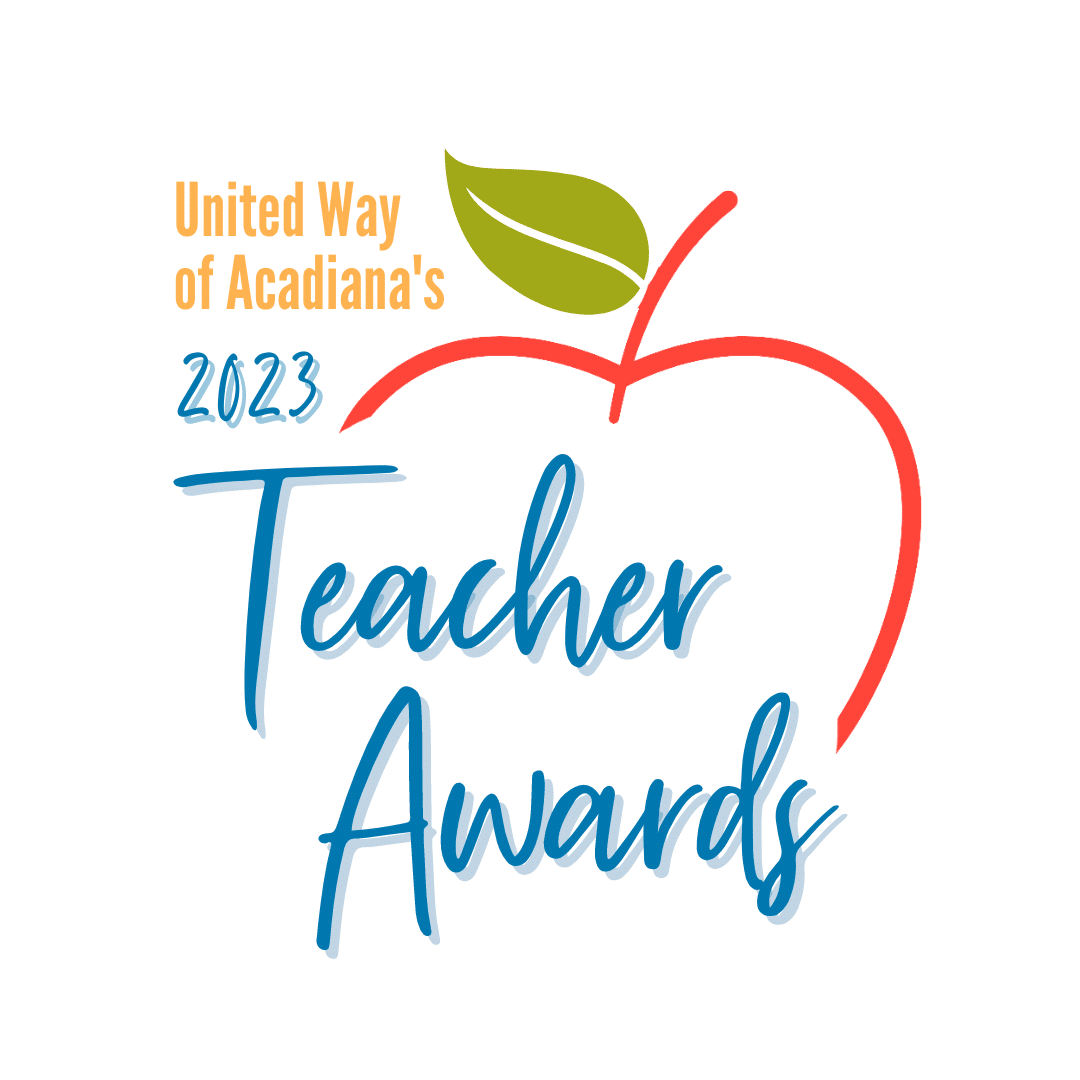 UNITED WAY OF ACADIANA ANNOUNCES NOMINATIONS FOR 2023 TEACHER AWARDS 
United Way of Acadiana announces nominations are now open for the 2023 United Way of Acadiana Teacher Awards.
Nominations will be open from November 7th to December 16th, 2022.   
These awards seek to recognize educators who are academically inspiring, dedicated to all students' growth and achievement, and who are resilient and creative in their chosen profession. Nominees must be an active, full-time educator in a Lafayette Parish public, charter, private, or parochial school system.  
Categories include Elementary School, Middle School, High School, and Inspirational. Selections for the 2023 Honorees will include two parts. All nominated educators will be recognized at a surprise Pin Patrol. Then, to be considered for selection as a finalist honoree, nominated teachers will be asked to complete a post-nomination form, which provides the selections committee with additional insight into their educational achievements.  
All nominated teachers and finalists will be celebrated at an in-person ceremony to be held on March 16, 2023. United Way of Acadiana is honored to host the Teacher Awards for the third consecutive year as part of Education Week festivities.   
"With United Way of Acadiana's longtime commitment to education, we are excited to continue the tradition of Teacher Awards and add to it with a week of activities highlighting the education profession and the opportunity to grow our impact," said Heather Blanchard, President and CEO of United Way of Acadiana. 
*LPSS students are able to nominate educators, but must use either a parent's email or another personal email to submit their nomination.
About United Way of Acadiana
United Way of Acadiana fights for the health, education, and financial stability of every person in every community. United Way envisions a world where all individuals and families achieve their human potential through education, income stability, and healthy lives. We win by LIVING UNITED. By forging unlikely partnerships. By finding new solutions to old problems. By mobilizing the best resources. And by inspiring individuals to join the fight against their community's most daunting social crises.