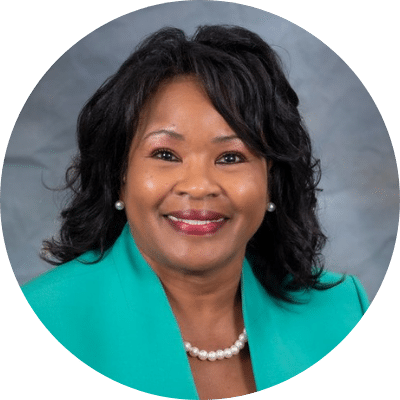 Mary M. Morrison
Ms. Mary Morrison has been an active member of the community for over 20 years. Ms. Morrison has spent the last 7 years serving on the Lafayette Parish School Board representing District 1. She is the first African American female to be elected to serve on the board. In addition, Ms. Morrison received unanimous support from her fellow board members this past January when she was voted to serve as the 2021 board president, paving the way for future African American female leaders. She has served as vice-chair and is currently an executive member of Lafayette Parish Public Education Stakeholders Council (LaPESC). She is a member of Alpha Kappa Alpha Sorority, a Boudin Festival Charter Member, Treasurer for Kiwanis of Scott, member of Women of Wisdom, a cabinet member for Emerge Louisiana, and president and founder of La Famille de Scott Krewe.
Professional: Ms. Morrison holds a bachelor's degree in Business and a master's degree in Education from the University of Phoenix. Ms. Morrison works as a Student Success Advisor II for the South Louisiana Community College and feels blessed to be a part of her students' academic journey and takes pride in watching each student flourish. In 2020, she was honored to receive the SLCC Everyday Excellence Award.
Previously, Ms. Morrison was a member of the Rotary Club. She also served as Lafayette Consolidated Council Woman of District 1, representing more than 20,000 people. As a former first lady of the city of Scott, Ms. Morrison worked to address residents' needs alongside her husband during his tenure as mayor. She is a graduate of Leadership Lafayette Class XXV. Ms. Morrison has been a member of the National Association of University Women for many years, formerly holding the office of second and first vice president. She received the NAUW "A Tribute to Excellence Award" and was chosen as Grand Marshall of the Lafayette Mardi Gras Association in 2012. Other Awards and Honors include the African American Heritage Award in 2020, Martin Luther King recipient 2019 at St. Martin Deporres, and is a Eucharistic Minister and president of the Ladies of Mary.
Mary is the wife of Mr. Purvis J. Morrison and the proud mother of daughters Dr. Shanea Morrison Nelson (Terry) and Ms. Shelly Morrison (Corey) and son Mr. Shawn Morrison (Kelly). In her free time, she enjoys spending time with her grandchildren Mary Grace, Skylynn, and Emerie, family, friends, and giving back to the community.