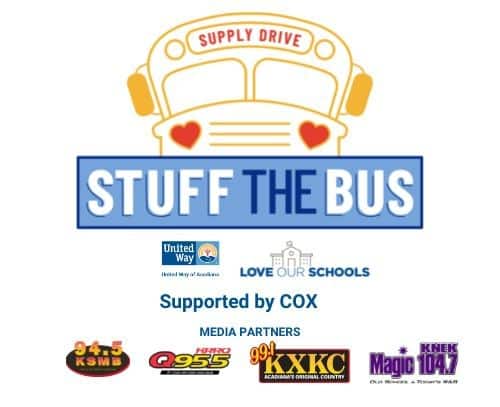 Sign Up Today!
United Way of Acadiana is gearing up for our annual Stuff the Bus school supply drive, presented by Love Our Schools and supported by COX this summer. 
Start today by picking up extra school supplies on your trips to the store.
Please contact Carlee Alm-LaBar (carlee@unitedwayofacadiana.org) with any questions.
Teachers, if you want to add to the list of items below or share what you most need, click here.
Supplies Needed:
Crayons
Scissors
Glue
Pencils
Ink Pens
Construction paper
Notebooks
Loose-leaf paper
Binders
Paper towels
Hand sanitizer
Lysol spray
Gloves
Electric Pencil Sharpener
Drop-Off Locations:
We are adding locations every day. Below is our current list.
United Way of Acadiana
215 E Pinhook Rd
Lafayette, LA 70501
94.5 KSMB
Q95.5 KRRQ
99.1 KXKC
MAGIC 104.7 KNEK
705 Federal Credit Union
Acadiana Automotive Group
Adorn Jewelry
Athleta
Carmax
City Club
Home Bank (all locations in Acadia, Lafayette, St. Martin, and Vermilion Parishes)
Keaty Real Estate
Meritus Credit Union
NeunerPate Attorneys at Law
SCP Health
The Gleason Group
Unitarian Universalist Fellowship of Lafayette
Vitalant
W-Industries
Sign up below to be a drop off location!
Complete the form below to sign up to be a drop off location for Stuff the Bus!