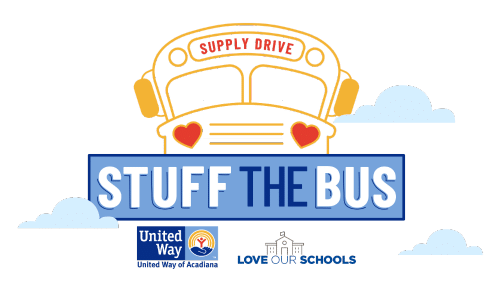 The start of school is right around the corner! UWA is supporting local educators by stocking their classrooms for the upcoming school year.
You can make a difference in one of these three ways:
1. Pick up extra supplies and drop them off at a local business or UWA
2. Order directly from Schoolplies to donate (Click here!)
3. Own a business? Become a drop-off location for supplies! (sign up below)
Acadia Parish
Evangeline Bank & Trust Co.
Iberia Parish
Locations coming soon!
Lafayette Parish
705 Federal Credit Union
Evangeline Bank & Trust Co.
Children's Museum of Acadiana
City Club at River Ranch
The Gleason Group
Pelican State Credit Union
SCP Health
St. Martin Parish
Merchants Security Services
Vermilion Parish
Gator Repair Service
Pitt Stop Oil Change
Supply List:
Paper Towels
Hand Sanitizer
Lysol Spray
Disinfecting Wipes
Command Hooks
Kinder Mats
Kleenex
Towels
Cardstock (colorful or white)
Construction Paper
Dry Erase Supplies
Loose-leaf Paper Binders
Crayons
Scissors
Glue
Pencils
Ink Pens
Notebooks
Sign up to become a drop off location at the form below!